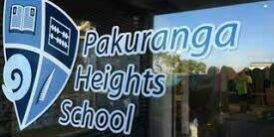 Project Scope – Pakuranga Heights School – Block 3
Work to include removal of all doors and windows of North and South faces, to be replaced with aluminium units. This will allow better access and observation to the front courtyard.
The toilet areas are to be gutted and the calling and wall linings to be replaced with wet wall linings and floor coverings to new unisex toilets, interior doors replaced and a new hot water system and hand basins.The adjacent wall will be a glazed withdrawal space directly accessed from the teaching space.
The classrooms will have redundant radiators removed, existing heat pumps reused. Walls and floors to be prepared for new acoustic wall coverings and carpet tiles. New LED lighting to be installed.
A new canopy roof will be fitted to the North face of the block to form an outdoor learning area to provide shelter from the sun.
Full roofing replacement to remove existing corroded roof sheets and install new metal profile roof sheets, flashings and spouting to main and lower toilet section roof.
Project start date: January 2022
Estimated date of completion: ongoing
Total Project Value: $ 412,802.96
ongoing project